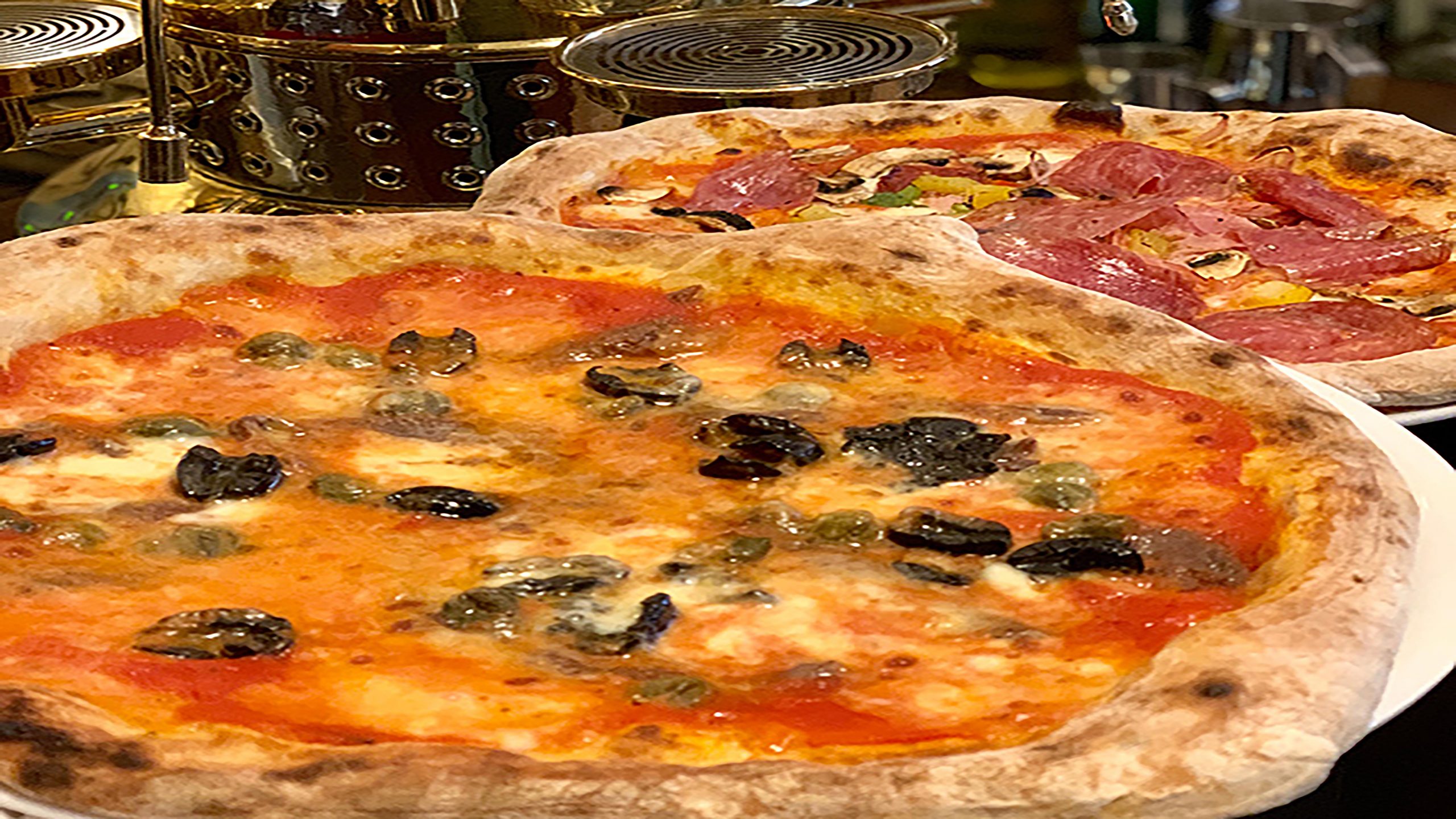 Pizza
In the case of wood oven pizza, no metal plate is used, the pizza is baked directly on stone. For our pizza we use a special Italian flour (type 00) with a force of at least (ww 350). The flour ensures that the dough can easily mature for a long time (72 hours). Taste gets the pizza by the great heat of wood fire, which in a very short time bakes a perfect pizza, which is airy and crispy at the same time.

Enjoy the original Neapolitan pizza.
41 Pizza Margherita
Tomatensoße, Mozzarella und frischer Basilikum
Tomato sauce, mozzarella and fresh basil
13,50 €
42 Pizza Salami
T/M und ital. Salami
T/M and Italian salami
14,50 €
44 Pizza Prosciutto
T/M und gekochter Hinterschinken
T/M and ham
1450 €
46 Pizza Salami e Salsiccia
T/M, ital. Salami und kalabresiche Peperoniwurst
T/M, Italian salami and calabrian sausage
16,00 €
47 Pizza Tutto
T/M, Hinterschinken, Champignons, Paprika, kalabresiche Peperoniwurst und ital. Salami
T/M, ham, mushrooms, pepper, calabrian sausage and Italian salami
18,50 €
48 Pizza al Salmone
T/M, frisches Lachs-Carpaccio und Artischocken
T/F, fresh salmon-carpaccio and artichokes
19,50 €
49 Pizza alla Puttanesca
T/M, Oliven, Kapern und Sardellen
T/M, olives, capers and anchovies
17,50 €
50 Pizza Antica
T/M, Hinterschinken, ital. Salami und Champignons
T/M, ham, Italian salami and mushrooms
18,00 €
52 Pizza Contadina
Büffelmozzarella, Cocktailtomaten, Rucola und Oliven (vegetarisch) ohne Tomatensoße
Buffalo mozzarella, cherry tomatoes, Rocket salad and olives(vegetarian) without tomatosauce
17,50 €
53 Calzone
Pizzatasche mit T/M, ital. Salami, Hinterschinken und Champignons
filled with tomato, mozzarella, Italian salami, ham and mushrooms
18,50 €
55 Pizza Mare
T/M und Meeresfrüchten
T/M and seafood
20,50 €
56 Pizza Tonno
T/M, Thunfisch, Kapern und Zwiebeln
T/M, tuna, capers and onions
17,50 €
57 Pizza ai 4 Formaggi
Mit 4 verschiedenen Käsesorten (vegetarisch)
With 4 different types of cheese (vegetarian)
18,50 €
59 Pizza Mamma Mia
T/M, Kalabresiche Salami und kalabresische Peperoniwurst (EXTREEEM SCHARF!!)
T/M, Calabrian salami and sausage (EXTREEEM HOT !!! ORDER AT OWN RISK!)
17,50 €
61 Pizza Reggiana
T/M, Parma-Schinken, Rucola und Parmigiano-Käse
T/M, Parma-ham, Rocket salad and Parmigiano-cheese
18,50 €
62 Pizza Calabrese
Tomatensoße, Büffelmozzarella und kalabresische Salami
Tomato sauce, buffalo mozzarella and Calabrian salami
16,50 €
64 Pizza Vegetariana
T/M, Spinat, Broccoli und frischer Knoblauch (vegetarisch)
T/M, Spinach, broccoli and fresh garlic (vegetarian)
16,50 €
66 Pizza alla Chef
mit Mascarpone-Mozzarellasahnesoße und Parma-Schinkenscheiben
with Mascarpone and Mozzarella cream sauce and slices of Parma ham
18,50 €
69 Pizza Capricciosa
T/M, Hinterschinken, Champignons und Artischocken
T/M, ham, mushrooms and artichokes
18,00 €
70 Pizza dell`Orto
T/M, Auberginen, Zucchini, Rucolasalat mit Parmesan-Käse bestreut (vegetarisch)
T/M, eggplant, zucchini, rocket salad, garnished with parmesan cheese (vegetarian)
18,00 €
71 Pizza Unica
T/M, Rucolasalat und Bresaola, mit Olivenöl, Zitrone und Parmeasn-Käse bestreut
T/M, rocket salad and Bresaola, with olive oil and lemon and Parmigiano cheese
19,50 €
72 Pizza Ferrari
T/M Coktailtomaten, kalabresiche Peperoniwurst und rote Peperoncini (etwas scharf)
T/M cherry tomatoes, calabrian sausage and red pepper (slightly hot)
17,50 €
75 Pizza Casanova
T/M, Steinpilze und eingelegte TRÜFFEL (vegetarisch)
T/M, mushrooms and marinated truffles (vegetarian)
21,50 €
77 Pizza VIVALDI (Vier Jahreszeiten)
T/M,Basilikum, Zwiebeln, Paprika und Steinpilze
T/M, basil, onions, pepper and mushrooms
19,50 €
79 Pizza Michelangelo
T/M, Shrimps und Zucchini mit Schafskäse bestreut
T/M, shrimp and zucchini garnished with feta cheese
19,50 €
Wir möchten Sie darauf hinweisen, dass es nicht möglich ist,eine Pizza für zwei Personen zu bestellen.
T/M = Tomatensoße und Mozzarella
T/M = Tomato and Mozzarella cheese


Extrawünsche Preisliste :
Ital.Salami, Hinterschinken, kalabresischer Peperoniwurst oder Salami, Champignons,
Paprika, Zwiebeln, Oliven, Artischocken und Kapern

€ 2,00

Cocktailtomaten, Thunfisch, Sardellen, Rucola, Zucchini, Auberginen,
Mozzarella, Broccoli und Spinat

€ 3,00

Shrimps, Meeresfrüchten,Austernpilze, Gorgonzola, Parmaschinken und Büffelmozzarella

€ 3,50

.